In November 2018, the National Heavy Vehicle Regulator (NHVR) launched the National Compliance and Enforcement Policy (NCEP). The NCEP details the NHVR's policy and approach to compliance and enforcement of the Heavy Vehicle National Law (HVNL), including what kind of enforcement or sanction actions will be undertaken by the NHVR in response to non-compliance in certain circumstances.
The aim of the NCEP is to provide a uniform and consistent roadmap for all compliance activities undertaken by the NHVR and State/Territory safety agencies operating under them – where lack of uniformity in investigation and enforcement has been a significant criticism of the HVNL in the past. In addition, the NCEP is intended to provide for proportionate and fair response to noncompliance, depending on the circumstances.
Just like parties in the Chain are meant to adopt a risk-based approach to compliance, the NHVR will adopt a risk-based approach to enforcement activities. Enforcement responses will be "graduated and proportionate", depending on the:
severity of the safety risk and the immediacy of actual or potential consequences
willingness and/or ability of the industry participant to comply, taking into account their compliance history.
In order of preference, the NHVR's response will be to:
inform – set safety standards and engage with industry
educate – provide guidance and advice on compliance
enforce – from warnings and cautions; to directions, instructions and improvement notices; to infringement notices; to prohibition notices; to suspension of accreditation; to enforceable undertakings; to prosecution and potential supervisory intervention orders and prohibition orders
monitor – track poor performers and subject them to increased scrutiny and enhanced enforcement action as appropriate.
In short, the NHVR seeks to adopt a co-regulatory model, where it, as the regulator, works with industry to educate, advise and assist industry to comply with the law, before turning to compulsory enforcement options for those industry participants unwilling or unable to play along.
A copy of the NCEP can be found here.
Author: Nathan Cecil
* A version of this article was originally published in CoR Adviser. This article is © 2019 Portner Press Pty Ltd and has been reproduced with permission of Portner Press.
Contacts:
Sydney:
Nathan Cecil, Partner
T: +61 2 8083 0429
E: nathan.cecil@holdingredlich.com
Geoff Farnsworth, Partner
T: +61 2 8083 0416
E: geoff.farnsworth@holdingredlich.com
Melbourne:
Harry Kingsley, Partner
T: +61 3 9321 9888
E: harry.kingsley@holdingredlich.com
Brisbane:
Suzy Cairney, Partner
T: +61 7 3135 0684
E: suzy.cairney@holdingredlich.com
Disclaimer
The information in this publication is of a general nature and is not intended to address the circumstances of any particular individual or entity. Although we endeavour to provide accurate and timely information, we do not guarantee that the information in this newsletter is accurate at the date it is received or that it will continue to be accurate in the future.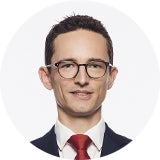 Published by Nathan Cecil
Share this