In an economic climate where the risk of insolvency is high, it is paramount to that creditors are prepared for debtors going into administration. Participation as a creditor does not have to be passive. The ability to understand and protect your own interests, can be enhanced with knowledge and early action.
In this article, we pinpoint eight key considerations landlords should be mindful of when dealing with the administration process, and outline key action items from day one.
Key considerations
1. Voting is power – creditor decisions in administrations are made by votes cast by the majority of creditors in value and number. Creating the best opportunity to influence the creditors' vote is the primary opportunity that a creditor may have to achieve the best outcome for itself. Therefore, proofs of debt and proxies must be a priority as soon as the administration commences. Understanding who your fellow creditors are and what interests they may possibly have can add strength to your own position. Involvement from the outset is key.
2. Proofs of debt – creditors often fail to understand the full extent of their possible claim. Proofs of debt should be completed with the full present and contingent claim – that is, what may become due and owing in the future. In particular, for a landlord or a creditor whose claims will become due and owing on the future, proofs of debt should include those future amounts. The bigger your claim, the greater your voting power.
3. Proxies – unless a creditor company is represented at the meeting by its directors, proxies must be arranged. Given that many creditors meeting will, during the COVID-19 crisis, be held by remote attendance, proxies become even more important to get right. This is because votes will be taken by poll (i.e. each creditor voting in turn) rather than on show of hands. Where voting results are tight, or very discriminatory deeds of company arrangements (DoCAs) are proposed, the ability to pull apart proxies for being illegitimate may be a crucial offensive strategy. More importantly, ensuring your proxies are solid is essential to your own defensive strategy if your vote is challenged. One step to take is to review your company's powers of attorney (PoA) to make sure that proxies can be given easily. If not, then a specific PoA may be worth putting together to make things easier. Preparation of proxies should commence as early as possible in the administration process.
4. Committee of creditors – the administration of a large debtor may have a significant impact on your business. Being on a creditors committee (voted for at the first creditors meeting) may present the earliest opportunity to understand what the potential outcomes of the particular administration are likely to be. The ability to gather information, ask questions and influence the course of the administration all become heightened. So be at the first meeting to ensue your chance to propose the formation of a committee and be on it.
5. Understanding the timetable – whomever is nominated by your organisation to be the lead person dealing with your position in an administration needs to understand the timetable (see table below). This should act as a general guide and is landlord-specific. An administrator can apply to court for timetable extensions in certain circumstances. Again, it is likely that the committee of creditors would be consulted before such an application is made. Therefore, it's important to note that this timetable is only a guide and it's critical to stay abreast of developments in this regard.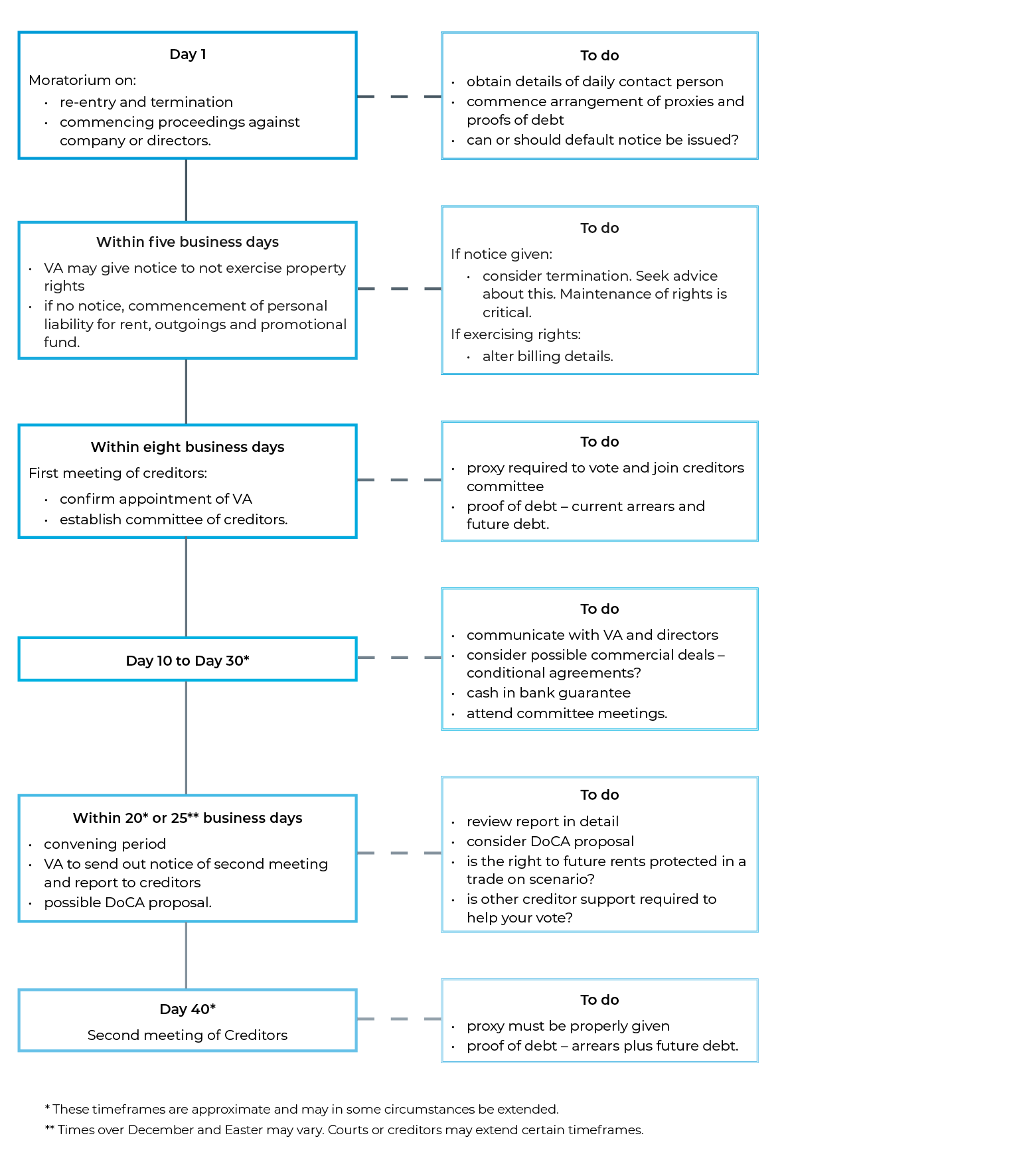 6. Staying close to the directors or the DoCA proponent – if a DoCA is to be proposed, it is essential that every opportunity be taken to influence a DoCA proposal to be advantageous to you. And there is no reason that deals cannot be struck to vote in a particular way based on certain agreements. If a tenant is proposing something that does not suit you, you may be able to create an opportunity to improve your position. It is not axiomatic that all must be treated equally under a DoCA.
7. Marshalling votes – a DoCA proposal may be against your interests, so consideration should be given as to whether you can marshal creditors in like positions to vote with you. This kind of lobbying is not unusual and can obviously increase your effective position. Some creditors may even be willing to give proxies to you. Knowing the other creditors and their interests is an essential part of creating this kind of opportunity.
8. Avoiding the "no future rent" trap – for landlords it is critical that where there is a trade-on scenario proposed through a DoCA, that rights to future rent be preserved. There is a legal trap which, if not avoided, can extinguish the right to future rents. Ensuring, therefore, that your participating creditor status is limited to pre-existing debt (i.e. arrears) under the DoCA providing for a trade-on is crucial. The DoCA proposal needs to be clear that future claims under leases that will remain ongoing are not compromised.
Author: Chris Brodrick
Disclaimer
The information in this publication is of a general nature and is not intended to address the circumstances of any particular individual or entity. Although we endeavour to provide accurate and timely information, we do not guarantee that the information in this newsletter is accurate at the date it is received or that it will continue to be accurate in the future.
Share this