The majority of Australian entities who are required to comply with the Modern Slavery Act 2018 (Cth) (MSA) have less than six months of their reporting period to go and will be required to submit a modern slavery statement at the end of this year (depending on the financial year adopted by that entity).
Reporting entities with an Australian financial year must be genuinely engaging with issues now to ensure a meaningful statement can be prepared and submitted by the required time.
Overview
The Commonwealth MSA has been in force since 1 January 2019. The MSA requires entities carrying on business in Australia with an annual consolidated revenue of at least $100 million to prepare a modern slavery statement. This statement must cover the entity's reporting period which is the same as their financial year and must be submitted to the Australian Border Force within six months after the end of its reporting period.
There are currently no financial penalties for non-compliance but there are Ministerial "naming and shaming" powers resulting in potential reputational damage.
Reporting entities should be taking genuine steps now to ensure a meaningful statement can be prepared and submitted by the required time.
Reporting periods and due dates for statements
The MSA requires the statement to cover the entity's reporting period, which is the financial year or other annual accounting period used by the reporting entity.
Statements must then be submitted within six months from the end of the reporting entity.
The below table sets out the common reporting periods and due dates for statements.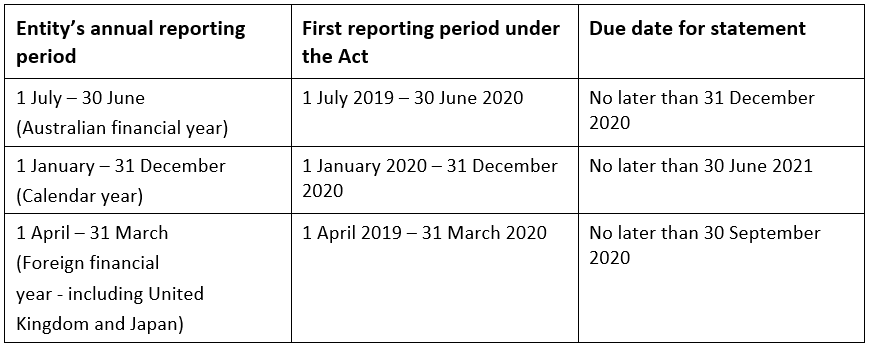 What does the statement need to include?
Statements must address the following mandatory criteria:
the identity of the reporting entity
the reporting entity's structure, operations and supply chains
the risks of modern slavery practices in the reporting entity's operations and supply chains and any entities that the reporting entity owns or controls
the actions taken by the reporting entity (and any entities that the reporting entity owns or controls) to assess and address those risks of modern slavery
the method of assessing the effectiveness of such actions
the consultation process with entities that the reporting entity owns or controls
any other relevant information.
What should reporting entities be doing now?
Entities should be carrying out a number of MSA activities now including:
preparing a Modern Slavery Action Plan
scoping their supply chains and identifying the modern slavery risks in those supply chains
preparing a Risk Mitigation and Remediation Plan
developing an anti-slavery framework and supporting policy
developing a Supplier Code of Conduct
developing modern slavery onboarding questionnaires and declarations for suppliers/contractors/service providers as part of their quotation or tender responses
reviewing and updating terms and conditions and current forms of contracts
developing and conducting Modern Slavery awareness training and training manuals for executives/employees and suppliers/contractors/service providers.
Who in your organisation is responsible for MSA compliance?
MSA compliance will require involvement from a number of departments within an entity including legal, risk, human resources, procurement or contracts, and the entity's executive.
A statement must be approved by the entity's principal governing body (board of directors) and signed by a responsible member of the entity (director).
Conclusion
If entities have not already started their modern slavery compliance journey, the time to start is now.
We are helping a number of entities to implement the required actions in their reporting period so that they can submit a meaningful statement by their required due date.
Authors: Scott Alden & Victoria Gordon
Disclaimer
The information in this publication is of a general nature and is not intended to address the circumstances of any particular individual or entity. Although we endeavour to provide accurate and timely information, we do not guarantee that the information in this newsletter is accurate at the date it is received or that it will continue to be accurate in the future.
Share this