National law firm Holding Redlich congratulates Mary Tonkin for winning the 24th People's Choice Award at the 2022 Salon des Refusés: The alternative Archibald & Wynne Prize selection exhibition.
Tonkin's landscape oil on linen work, Hot Kiss, Kalorama, was among 17 works selected from the Wynne Prize in addition to 38 works selected from the Archibald Prize.
In her artist statement, Tonkin noted that she painted Hot Kiss, Kalorama amid the backdrop of the pandemic and hours spent with her children in bushlands surrounding her home in Kalorama, Victoria.
"Hot kiss, Kalorama was made entirely en plein air in bush on my family's farm at Kalorama in the Corhanwarrabul (Dandenong Ranges), East of Narrm (Melbourne) during late Summer and early Autumn. In this spot the bush is dominated by Brown Stringybark and Messmate gums with an understory of Prickly Currant Bush and Bracken Fern. It is named after the memory of a particular kiss; the somewhat shattering tingle and sparkle of which seemed alive in the forms as I painted them," Tonkin writes.
Presenting the award at the National Trust's S.H. Ervin Gallery in Sydney, Holding Redlich's Sydney Managing Partner, Stephen Trew, congratulated Mary for winning the People's Choice Award.
"Mary's work draws your attention as soon as you enter the room," Stephen said. "It's an honour for Holding Redlich to recognise Mary tonight and present her with a very well-deserved People's Choice Award."
The Salon des Refusés was initiated by the S.H. Ervin Gallery in 1992 in response to the large number of works entered into the Archibald Prize which were not selected for display in the official exhibition and has become a much-anticipated event among Sydney's thriving arts scene. The exhibition and People's Choice Award is an annual event, with the winner voted by visitors to the National Trust's S.H. Ervin Gallery in Sydney.
Holding Redlich has been a proud sponsor of the exhibition's People's Choice Award at the Salon des Refusés exhibition for the past 24 years.
Mr Trew said Holding Redlich is proud of its longest-standing arts partnership with the Salon des Refusés exhibition and strong support for the arts nationally.
"Our firm's founder Peter Redlich loved, and was an advocate for, the arts. It's wonderful to acknowledge our heritage and continue his passion, through our ongoing partnership with the S.H. Ervin Gallery," Stephen said.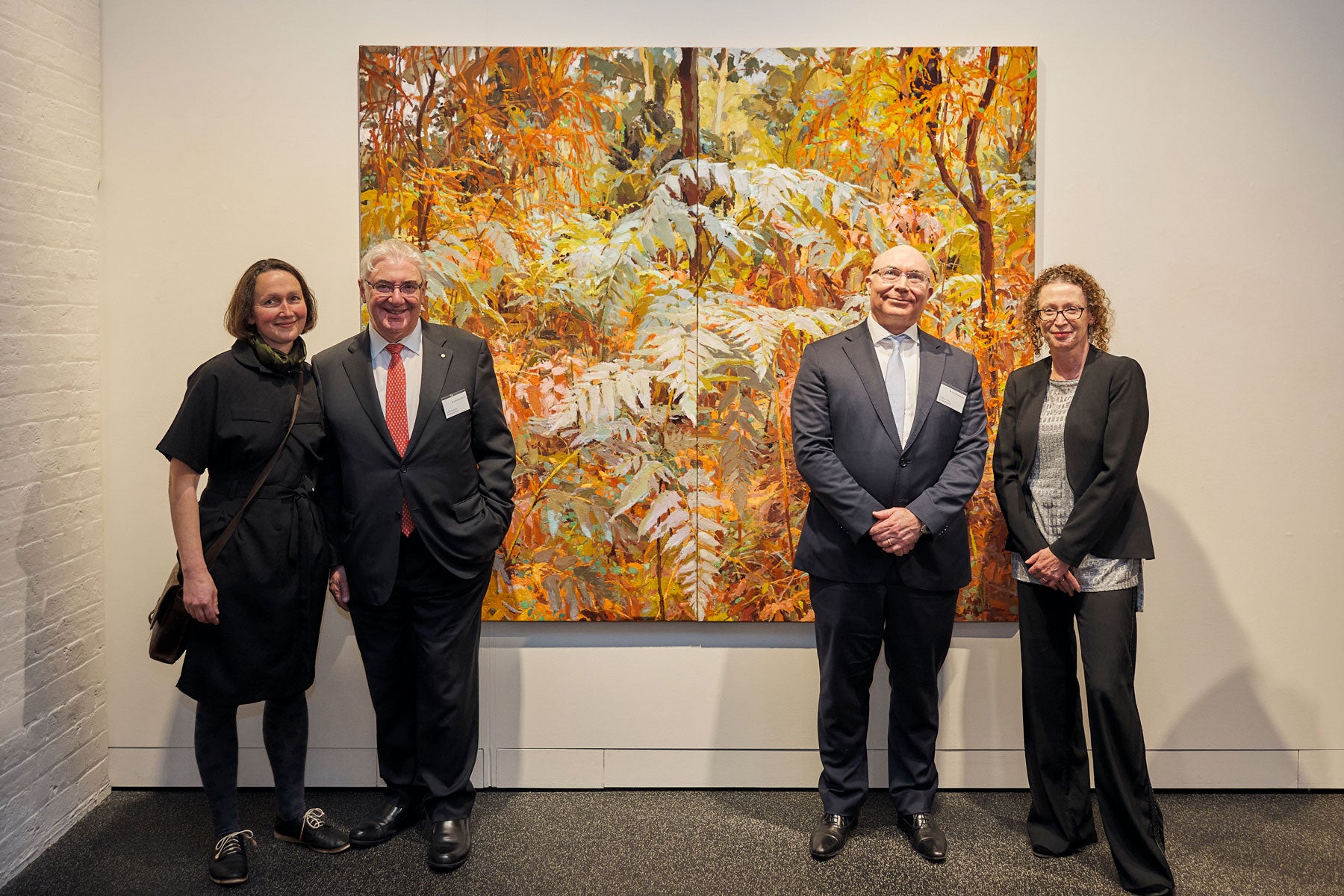 Photo (from left to right): Artist Mary Tonkin, National Managing Partner Ian Robertson, Sydney Managing Partner Stephen Trew, and S.H. Ervin Gallery Director Jane Watters against the winning artwork, Hot Kiss.
Share this