National law firm Holding Redlich congratulates Joshua Yeldham for winning the People's Choice Award at the 2023 Salon des Refusés: The alternative Archibald & Wynne Prize selection exhibition.
Known for his psychedelic paintings of Australian landscapes, Joshua explores spiritual connections with the land through painting, photography, and sculpture. His winning artwork, Driftwood, is an acrylic piece on hand-carved board, which explores the magic of darkness.
As Joshua explains in his artist statement:
"Magic, for me, was the realisation that in places where you're shrouded in shadow and darkness, you can start to see a vision of nature that is forever twinkling and changing as your consciousness changes, like a theatre of dim light, shape and form, faces come out of driftwood, creatures come out of the dark; but they come out equal to where your consciousness is at."
Stephen Trew, Holding Redlich's NSW & ACT Managing Partner, announced the win at Holding Redlich's annual client event hosted by the National Trust's S.H. Ervin Gallery.
"It's a privilege for Holding Redlich to recognise Joshua once more and present to him the People's Choice Award," Stephen said. "Joshua's piece lets the viewer delve into Australia's landscape of vast lakes, tall mountains and peaceful shores while also exciting the imagination and a reverential love of nature."
Today's win marks the second People's Choice Award for Joshua who previously won in 2020 for his poignant landscape painting, Phantom limb, Smith's Creek, which was painted following the Sydney bushfires and conveys the long-lasting endurance and resilience of nature.
The Salon des Refusés exhibition and People's Choice Award is an annual event with the winner voted by visitors to the National Trust's S.H. Ervin Gallery in Sydney. Salon des Refusés was initiated by the S.H. Ervin Gallery in 1992 in response to the large number of works entered into the Archibald Prize not selected for display in the official exhibition.
As Holding Redlich's longest-standing arts partnership, Salon des Refusés forms a centrepiece for the firm's strong support for the arts across the nation.
"Holding Redlich prides itself on its long-standing support for the arts, a tradition that stems from the firm's founder Peter Redlich," Stephen said. "Peter loved the arts and was a strong advocate for Australian artists. Acknowledging our heritage through continuing his passion with our ongoing partnership with the S.H. Ervin Gallery is a wonderful way to honour his memory and achievements."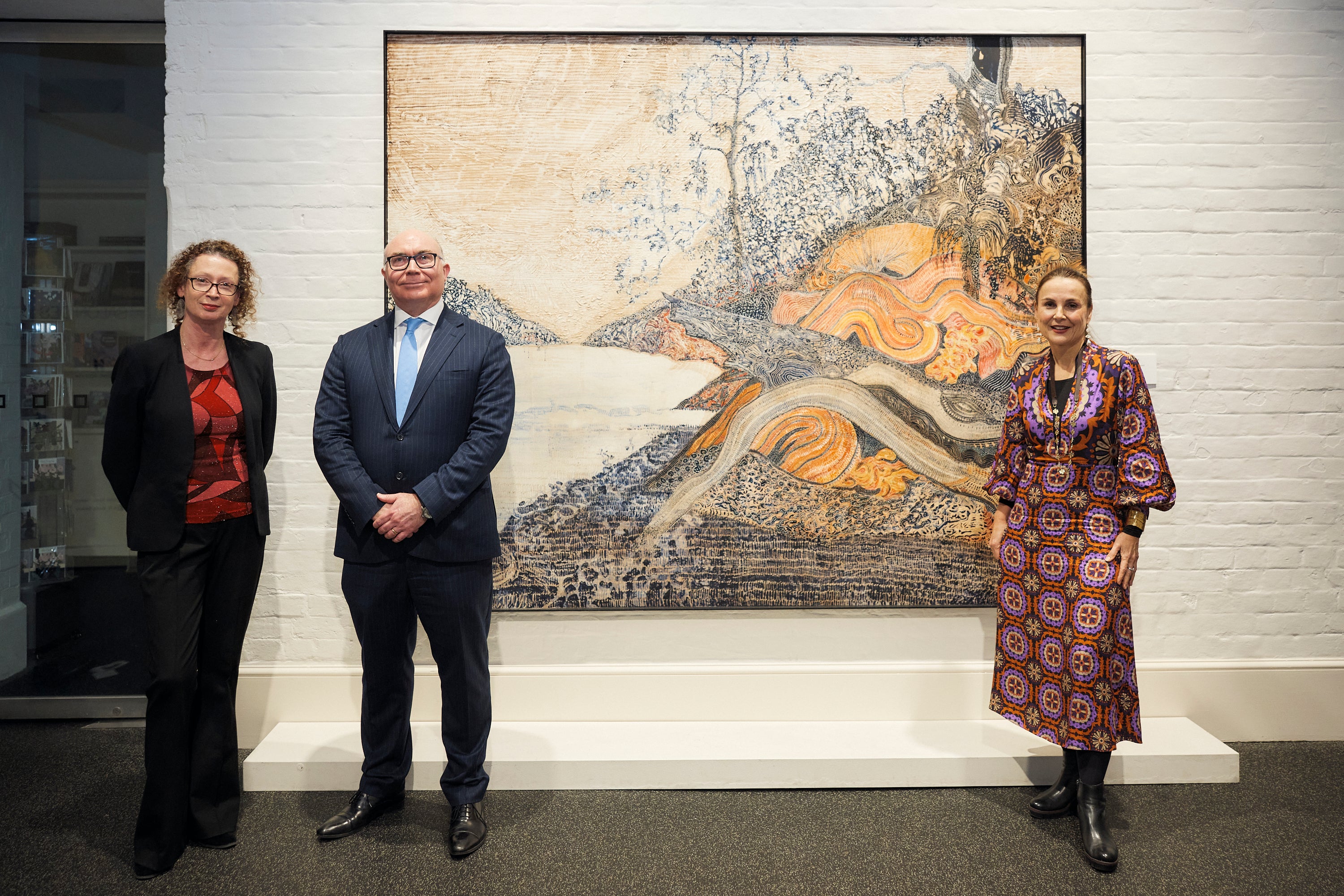 Photo (from left to right): S.H. Ervin Gallery Director Jane Watters, Holding Redlich's NSW & ACT Managing Partner Stephen Trew and Arthouse Gallery Director Ali Yeldham (receiving the award on behalf of Joshua Yeldham) against the winning artwork, Driftwood.
Share this