When times get tough, business fold. A strategic benefit of voluntarily liquidating a company is that, typically, a business which is euthanised is 'judgment proof' in that it cannot be pursued for debts. Unless the directors actively traded whilst insolvent, they also can't be pursued for company debts.
Most directors think that once the business is liquidated, that it the end of the matter. But what if the nightmares of the business could come back from the grave?
This is precisely what happened for Bullin Pty Ltd. Bullin encountered financial difficulty and was wound up. Prior to winding up, the company had committed some 500 overloading and overdimension offences between 2003 and 2007. One year after being liquidated, prosecutions were commenced against the director for 89 executive liability overmass offences.
Unfortunately for the director, liquidation doesn't clean the slate for regulatory prosecutions. Also, the Heavy Vehicle National Law states that prosecution for executive liability offences can be commenced even if proceedings are not first or also brought against the company concerned. The director was fined $158,697 and ordered to pay the prosecution costs. The Court found that the director was a "systematic or persistent offender", which is presumably why a prosecution was brought against the director even after the company had ceased to trade. Also, and to stop further non-compliance in any new company, the Court banned the director from engaging in any business involving heavy vehicle transport.
So, whether you are a stand-up director or not, you need to remember that Chain of Responsibility (CoR) offences are like barnacles and will hold on for dear life, even if your business goes bust. Given that this is a lingering personal exposure, this is an excellent reason to ensure that CoR is being addressed in your business.
Author: Nathan Cecil
* A version of this article was originally published in CoR Adviser. This article is © 2018 Portner Press Pty Ltd and has been reproduced with permission of Portner Press.
Contacts:
Sydney:
Nathan Cecil, Partner
T: +61 2 8083 0429
E: nathan.cecil@holdingredlich.com
Geoff Farnsworth, Partner
T: +61 2 8083 0416
E: geoff.farnsworth@holdingredlich.com
Melbourne:
Harry Kingsley, Partner
T: +61 3 9321 9888
E: harry.kingsley@holdingredlich.com
Brisbane:
Suzy Cairney, Partner
T: +61 7 3135 0684
E: suzy.cairney@holdingredlich.com
Disclaimer
The information in this publication is of a general nature and is not intended to address the circumstances of any particular individual or entity. Although we endeavour to provide accurate and timely information, we do not guarantee that the information in this newsletter is accurate at the date it is received or that it will continue to be accurate in the future.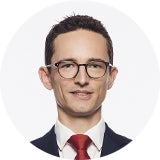 Published by Nathan Cecil
Share this