Fatigue and distraction detection technology (FDDT) is a means to detect and alarm users of unsafe driving behaviours that indicate driver fatigue and/or distraction. But is this technology effective and how is it being received by the heavy vehicle industry?
In this article, we explore these questions by reviewing the findings of the National Heavy Vehicle Regulator's (NHVR) fatigue monitoring trial which was conducted in five phases between January 2019 and 2020. Outcomes from this trial are summarised below.
Phase one – review of FDDTs used in the industry
Phase one of the trial involved a review of the FDDT being used in the industry. The NHVR determined that there are currently six key areas in which these technologies operate: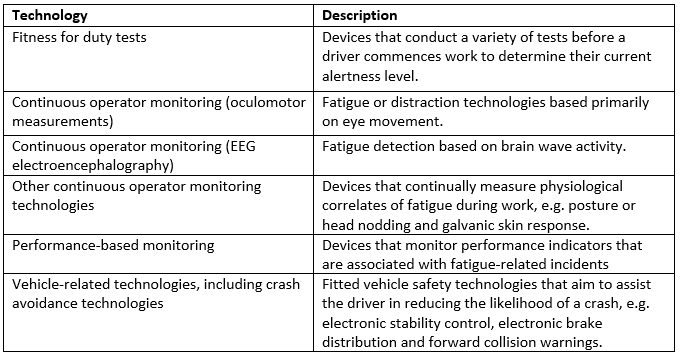 Within the above technologies, continuous operator monitoring (oculomotor measurements) devices or face monitoring systems were deemed to offer the most value to users (drivers and transport companies). For this reason, they were chosen as the focus for phase two (below). However, the NHVR concluded that these devices should not be implemented as a standalone tool for fatigue management. Rather, they should be used as part of a Fatigue Risk Management System.
Phase two – analysis of FDDTs' effectiveness and industry opinion
The second phase of the trial involved interviewing key stakeholders currently using or providing FDDTs to determine whether the technology could correctly identify unsafe driving behaviours attributable to fatigue and/or distraction. The outcome of the trial was to highlight the capability of such technologies to reduce fatigue and distraction-related events, thus improving safety outcomes within the industry. The key findings were as follows:
there was an almost unanimous belief among stakeholders that the effective use of FDDT will profoundly reduce the frequency of fatigue and distraction events while driving and that. If implemented more broadly across the industry, FDDT would significantly improve safety outcomes
FDDTs are perceived by stakeholders as 'game changers' that provide safety benefits without:

unnecessarily compromising operational efficiency
producing paradoxical outcomes, which can sometimes be the case for things that fall under a 'one-size-fits-all' approach.

the implementation and evaluation of FDDTs is still in the early stages with a range of ongoing challenges identified, including:

the importance of adopting a collaborative (as opposed to mandated) approach between company management and driver
a stated preference by most drivers to encourage the use of FDDTs that identify unsafe fatigue and/or distraction events alerts rather than approaches based on continuous surveillance
ensuring the NHVR and industry develop a collective view on the best ways to introduce an effective and workable standard for FDDTs that encourages greater operational flexibility under the Heavy Vehicle National Law (HVNL)
the need to develop guidance materials that provide legally defensible policies and procedures on how organisations might reasonably respond to fatigue and/or distraction event alerts
ensuring complementary guidance material is available to encourage drivers to use the technology to better understand fatigue and to act earlier on their own 'leading indicators' before a high-risk fatigue event occurs.

many participants opined that the NHVR and other regulators must play a leadership contributing role in supporting the industry reduce fatigue-related risks by encouraging the delivery of a more flexible regulatory framework and culture (through the HVNL) that provides for:

increased use of FDDTs that meet an agreed standard
the creation of standard operating practices, templates or guidance materials for companies using FDDTs
the collaborative collection and exchange of data from FDDTs to accelerate organisational and regulatory learning cycles to assist the continuing reduction of fatigue and/or distraction-related events.
Accordingly, the results were overwhelmingly positive and in favour of further adoption of FDDTs within the industry. Therefore, while there are some challenges to overcome, it appears that FDDTs will become more common. Legislative and regulatory change is also required to promote the adoption of FDDT and to address the concerns of industry stakeholders.
Next phases and conclusions
There were three further phases conducted by the NHVR. These included a phase dedicated to field assessment of the FDDTs to assess their adaptability and validation of key findings from Phase two, consultation and reporting.
Unfortunately, the NHVR are yet to publish the findings from these phases. However, based on the outcomes of the first two phases, it appears that overall, the NHVR's trial into FDDTs was overwhelmingly in favour of the further adoption of FDDTs, as they have been found to be effective in reducing fatigue and/or distraction-related events.
While it is clear there is a need for some fine-tuning with the regulatory framework and perhaps even the technology itself, there is no denying that they have had a positive impact on industry safety. It is believed that one in 10 heavy vehicle crashes are said to result from driver fatigue and possibly even more from distraction. Therefore, our initial questions about this technology have been quashed and we can only see the further introduction and implementation of FDDTs as a positive step towards ensuring all drivers on our roads are safer than ever before.
Authors: Melanie Long & Nathan Cecil
This article was originally published in CoR Adviser. The article is © 2022 Portner Press Publishing Pty Ltd and has been reproduced with permission of Portner Press.
Disclaimer
The information in this article is of a general nature and is not intended to address the circumstances of any particular individual or entity. Although we endeavour to provide accurate and timely information, we do not guarantee that the information in this article is accurate at the date it is received or that it will continue to be accurate in the future.
Share this