Changes to the Heavy Vehicle National Law (HVNL) are due to 'go live' on 1 October 2018. For anyone who has been deaf to the 'drum-beat' of the last two years (or so), now is very much the time to not only start thinking about upgrading your compliance, but to actually start doing it.
Speaking objectively, there is really no excuse. The last two years have seen a quickening of awareness and activity around the impending changes. The National Heavy Vehicle Regulator (NHVR) has rolled out a significant awareness-raising campaign, across various sectors of the supply chain. It has made considerable resources available through its website. The NHVR's caravan has been followed by various industry associations and consultants, all in an effort to raise awareness and offer assistance around understanding obligations and tailoring a compliance program to meet those obligations.
A joint effort of the Australian Logistics Council and Australian Trucking Association has produced a Master Code of practice to guide parties in devising compliance systems to meet the new laws.
At this stage, it is almost impossible to know how successful those efforts have been. Our experience tells us that several large Australian businesses have devoted considerable time and expense in upgrading their compliance in preparation for the new laws going live. Road-users, including heavy vehicle drivers, should be gratified to know that our roads are that much safer as a result of these initiatives.
We suspect the 80/20 Rule will apply - with around 20 per cent of relevant businesses being aware of and understanding the changes in the law and implementing properly targeted and responsive steps to prepare and 80 per cent of businesses misunderstanding or underestimating their enhanced Chain of Responsibility (CoR) obligations to a greater or lesser extent. That is, we very rarely come across businesses that are 100 per cent compliant. However, this split in itself is probably an improvement over the levels of compliance with 'old CoR'.
If we were to single out two 'challenged' sectors, we would identify:
Containerised imports - Import containers must be packed and their contents secured to Australian standards (refer to Load Restraint Guide 2018), not the standard at the place of export. The volume and nature of container trades means it's impossible to routinely open and inspect inside containers when they arrive at the wharf and before they take to the roads. Truck drivers and operators are often at the "front-line" when dealing with the consequences of poorly packed and secured containers - but it is the importer's job under the CoR to tell its suppliers how containers must be packed and to check that this instruction is being followed.
Rural industries - A potentially lethal combination of factors (including long distances, dispersed demographic and, in some instances, a 'frontier' attitude) continue to challenge compliance for rural industries. That does not mean that considerable efforts are not being made to get the message across and encourage compliance in major cities. Hopefully those efforts will bear fruit.
If we were to single out the three biggest missteps by business in dealing with their CoR obligations, we would identify:
CoR applies to all transport activities – Many businesses still only focus on CoR for outbound transport activities relating to primary goods i.e. when they send out the main goods with which the business deals. However, the CoR laws apply to all heavy vehicle transport activities – in or out. So, in addition to addressing CoR compliance for any outbound movement, businesses need to consider CoR implications for inbound goods, materials and equipment supplies. Further, CoR laws apply to the heavy vehicle movement of all goods, not just the main outputs of the business. So, CoR laws might also apply to the inbound delivery of fertiliser, feed, fill or raw materials and the outbound removal of agricultural waste, rubbish or soil/spoil.
You need to take all steps to address safety, not just some – Doing something in relation to CoR is better than doing nothing. However, the compliance obligation is for businesses to take all reasonably practicable steps to address safety, not just some or even most. So, businesses need to think about their CoR risks and compliance measures from a number of different angles and plug any holes.
A CoR risk management system is essential – Many businesses address CoR on an ad hoc basis – when a safety risk is identified, it is dealt with in isolation. This can mean that there is no unified overview of business operations as a whole and can result in conflicting or very incomplete safety management. Having in place a central CoR compliance policy, working procedures, set of contract clauses, monitoring and reporting system is the best way to ensure that you aren't leaving yourself, and your workers and other road users, exposed.
The message that CoR is all about safety can sometimes be lost in the clutter of regulation and compliance. Perhaps a simple touchstone of effective compliance should be "will this improve safety?"
Significant changes to the Chain of Responsibility laws are set to commence on 1 October 2018. Our Transport team has devised a handy guide outlining who and what is covered by the laws, the key principles, and what businesses need to do to be compliant.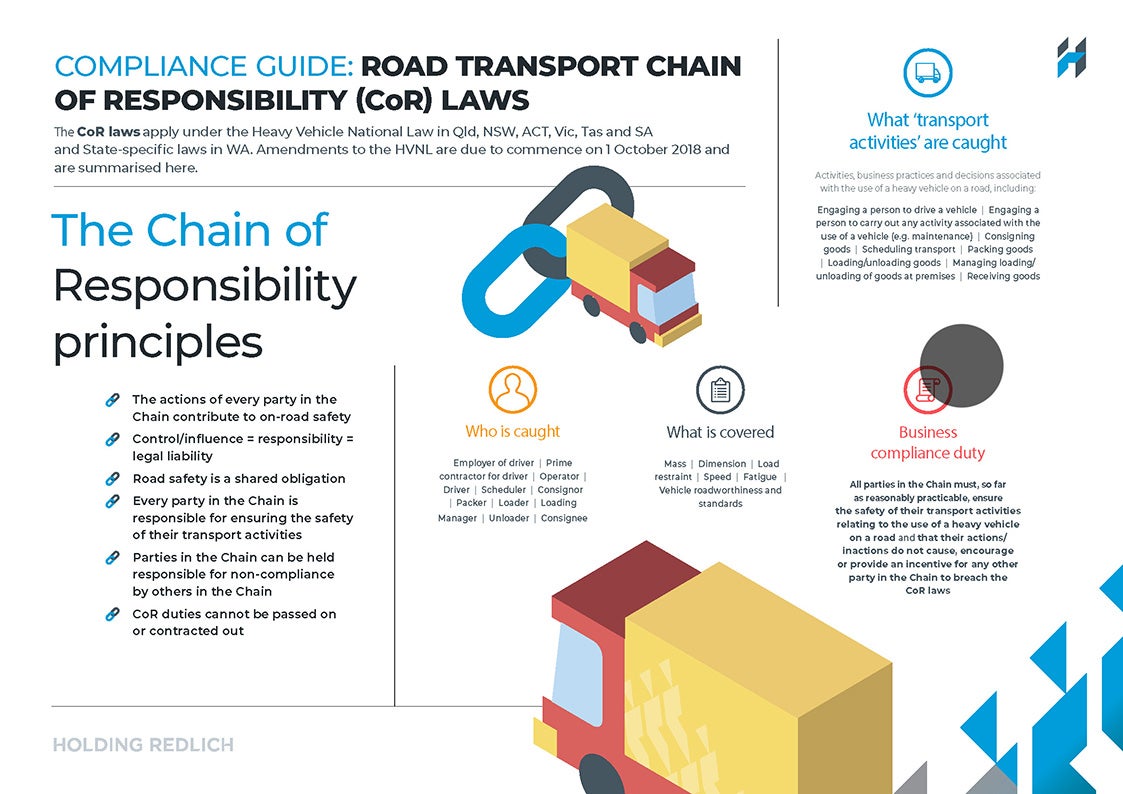 View the full guide here.
Authors: Geoff Farnsworth & Nathan Cecil
* This article first appeared in Australasian Transport News magazine: www.fullyloaded.com.au
Disclaimer
The information in this publication is of a general nature and is not intended to address the circumstances of any particular individual or entity. Although we endeavour to provide accurate and timely information, we do not guarantee that the information in this newsletter is accurate at the date it is received or that it will continue to be accurate in the future.
Share this