2019/2020 planning levels
The Migration Program for this year has been set at a cap of 160,000 places. Approximately 70 per cent of places have been allocated to skilled visas, with the bulk of the remainder allocated to family visas.
The table below shows how many places have been allocated to different classes of visas and shows how much it has changed from last year with the most significant change being the reduction of places to the Skilled Independent visa by 57 per cent.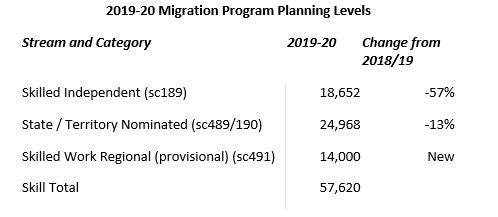 Invitations issued during the 2019-20 program year for the Skilled Independent (189) visa and Subclass 491

Note the subclass 491 visa commences 16 November 2019, see below.
Invitation rounds results – October 2019
For the skilled migration program, applicants must lodge an Expression of Interest and wait to receive an invitation before applying for a visa. Invitations are issued to those applicants who have the highest points, in the order of lodgement.
The Department of Home Affairs will issue one invitation round per month, on the 11th of each month. States and Territories can still issue invitations as required however many are moving to a once a month process.
Invitations are issued by email to the address linked to your Expression of Interest. If you are concerned you have missed correspondence, please log into your account to review your messages.
In October 1,500 were issued to Subclass 189 applicants with the minimum points score being 80 as at 4 June 2019, 8.33pm. The table below shows how many invitations were issued for different point scores.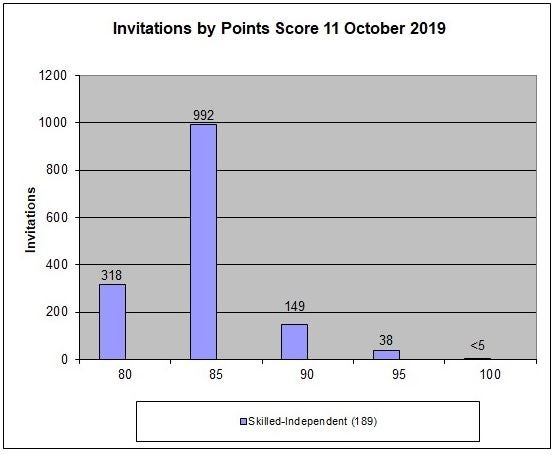 Note that high demand occupations will have higher minimum points scores. This includes: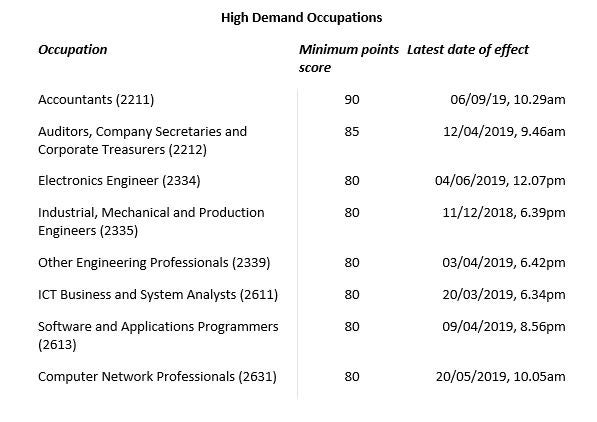 The threshold points score for skilled migration remains at 65 points however with the skilled independent visa places being significantly reduced, you can expect the points score for invitations to remain high as the program is quite competitive.
16 November 2019 legislation changes
Points test changes
Changes to the points test are coming for applications made after 16 November 2019. The changes include:
five points for a spouse or de facto partner with Competent English. Currently not applicable
10 points for applicants without a spouse or de facto partner, or with a spouse or de facto partner who is an Australian citizen or permanent resident. Currently not applicable
10 points for a skilled spouse or de facto partner under 45 years old with Competent English, suitable skills assessment and with an occupation on the same skilled occupation list. Currently five points
10 points for specialist education. This will apply to particular Science, Technology, Engineering and Mathematics (STEM) qualifications. Currently five points
15 points for regional nomination or sponsorship by a family member residing in regional Australia, to live and work in regional Australia. Currently 10 points.
Invitations for points tested visas
Invitations will be ranked in the following order:
primary applicants with a skilled spouse or de facto partner and primary applicants without a spouse or de facto partner
primary applicants with a spouse or de facto partner who can demonstrate competent English, but does not have the skills for skilled partner points (age and skills)
primary applicants with a partner who is ineligible for either competent English or Skilled partner points. These applicants will be ranked below all other cohorts, if all other points claims are equal.
New definition of regional area
Currently there are four definitions of 'regional' across nine different skilled migration visas. From 16 November there will be one simplified definition which will include all of Australia except for Sydney, Melbourne, and Brisbane. Perth and the Gold Coast are now considered to be regional areas.
New Skilled Regional Visa
Subclass 491 – Skilled Work Regional (Provisional)
This visa will enable skilled workers and their families to live, work and study in a designated regional area for up to five years. There are two streams:
nomination by a state or territory government
sponsorship by an eligible family member residing in a designated regional area.
To be eligible for this visa you must:
have a relevant occupation on a skilled occupation list
have a suitable skills assessment for that occupation
satisfy the points test
be under 45 years of age at the time of invitation
have Competent English
submit an Expression of Interest via SkillSelect
be nominated by a state or territory government agency or be sponsored by an eligible relative
be invited by the Department of home Affairs to apply
meet public interest criteria including health and character requirements
Holders of this visa will be able to transition to permanent residence after three years if:
they have earned a minimum taxable income for three years as the holder of a regional provisional visa
they have complied with the conditions of the regional provisional visa – particularly the requirement to live, work and study in a designated regional area of Australia.
Transitional arrangements
Current subclass 489 visa holders will continue to have access to the Subclass 887 Skilled Regional Visa for permanent residence. The points test will operate beneficially and no applicant will be adversely affected by the amendment.
Author: Rebecca Macmillan
Disclaimer
The information in this publication is of a general nature and is not intended to address the circumstances of any particular individual or entity. Although we endeavour to provide accurate and timely information, we do not guarantee that the information in this newsletter is accurate at the date it is received or that it will continue to be accurate in the future.
Share this