The value of the tax offset available under the incentive is based on the expenditure on R&D activities. These activities include "core R&D activities" and "supporting R&D activities".
Core R&D activities are experimental activities whose outcome:
cannot be known or determined in advance on the basis of current knowledge, information or experience
can only be determined by applying a systematic progression of work that is based on principles of established science and proceeds from hypothesis to experiment, observation and evaluation
leads to logical conclusions and that are conducted for the purpose of generating new knowledge.
Supporting R&D activities are those activities which are 'directly related' to a core R&D activity.
Some activities are specifically excluded from being core R&D activities. However the activities could still be considered supporting R&D activities provided their dominant purpose is to support core R&D activities.
The decision tree sets out the key legislative requirements for activities to be either eligible core or supporting R&D activities.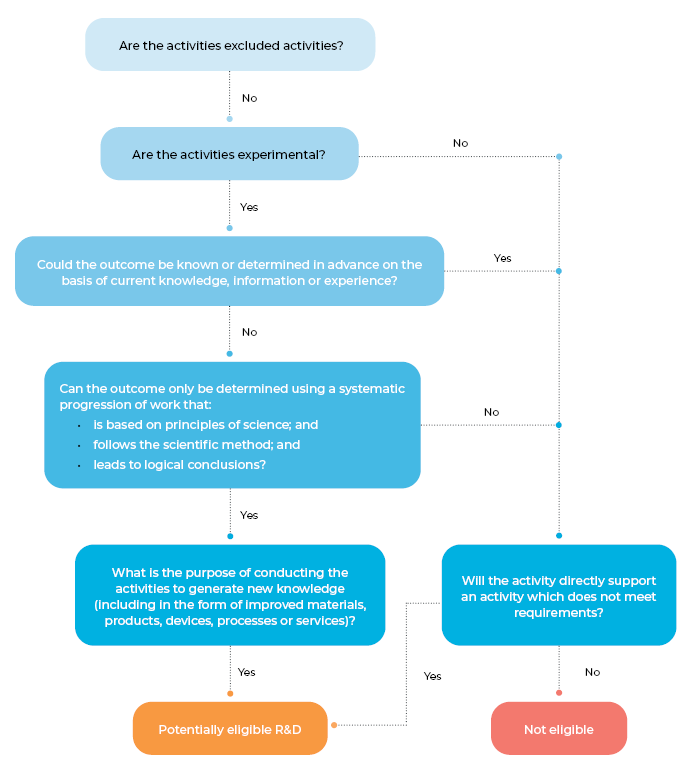 R&D must generally be carried out in Australia to be eligible for the offset.
There are additional requirements that attach to overseas activities. For example, in order to be eligible, an overseas R&D activity must:
be scientifically linked to an Australian core R&D activity
not be able to be conducted in Australia
have a lower anticipated expenditure than the anticipated expenditure for related Australian R&D activities.