Tania Wursig has won this year's Holding Redlich People's Choice Award with her painting titled, Chakita, a double portrait of couple Nikita Majajas and Charlie Villas from works selected for the 2021 Salon des Refusés: The alternative Archibald & Wynne Prize selection exhibition.
The artist statement reads, "Being a female artist practicing on the 'fringe' of the establishment, I am interested in celebrating other female creatives in this sector of society. My painting 'Chakita' is of lesbian power couple, Nikita Majajas and Charlie Villas, internationally recognised Pop artist/designer and DJ, and leaders within the LGBTQI + community. Passionate fashionistas, Nikita is the founder of cult Pop accessories brand Doodad + Fandango, and Charlie has made her mark in the queer party scene playing gigs such as Sydney Mardi Gras. What I most admire about this couple is their ardent support of each other's creative endeavors. This portrait is a celebration of love, creativity and the duality of femininity."
Tania Wursig has enjoyed a dynamic career that spans more than three decades. As a professional painter, Wursig has travelled and worked internationally, including residencies in Paris and Barcelona, an invitation to the International Artists' Symposium in Budapest, commissioned work in Hawaii, and an annual painting residency in Tahiti for the past decade.
"Wow, what a surprise and honour. This is a very proud moment for me and humbling. To have my painting selected from the hundreds of Archibald Prize entries and what a privilege to hang in this wonderful space alongside so many celebrated artists.
The award has given me a much-needed beacon of light in these unprecedented times. It's been almost two years since my life and career were put on hold, so this acknowledgement means a lot to me."
National law firm Holding Redlich has been a long-time supporter of the Salon des Refusés exhibition and People's Choice Award at the National Trust's S.H. Ervin Gallery. The Holding Redlich People's Choice Award celebrates its 23rd year in 2021.
Holding Redlich's Sydney Managing Partner, Stephen Trew, made the announcement at the Gallery, congratulating Tania on her winning artwork and wishing her the best for her future creative projects.
Stephen said he is delighted that the firm's support for the exhibition is now in its 23rd year: "Holding Redlich prides itself on its long-standing support for the arts, a tradition that stems from the firm's founder Peter Redlich, well-known for his love of the arts. Supporting the Salon des Refuses exhibition is our longest-standing arts partnership, of which we are very proud."
The National Trust S.H. Ervin Gallery initiated the Salon des Refusés in 1992, in response to the overwhelming number of entries submitted to the Archibald & Wynne prizes (AGNSW), yet never seen by the public.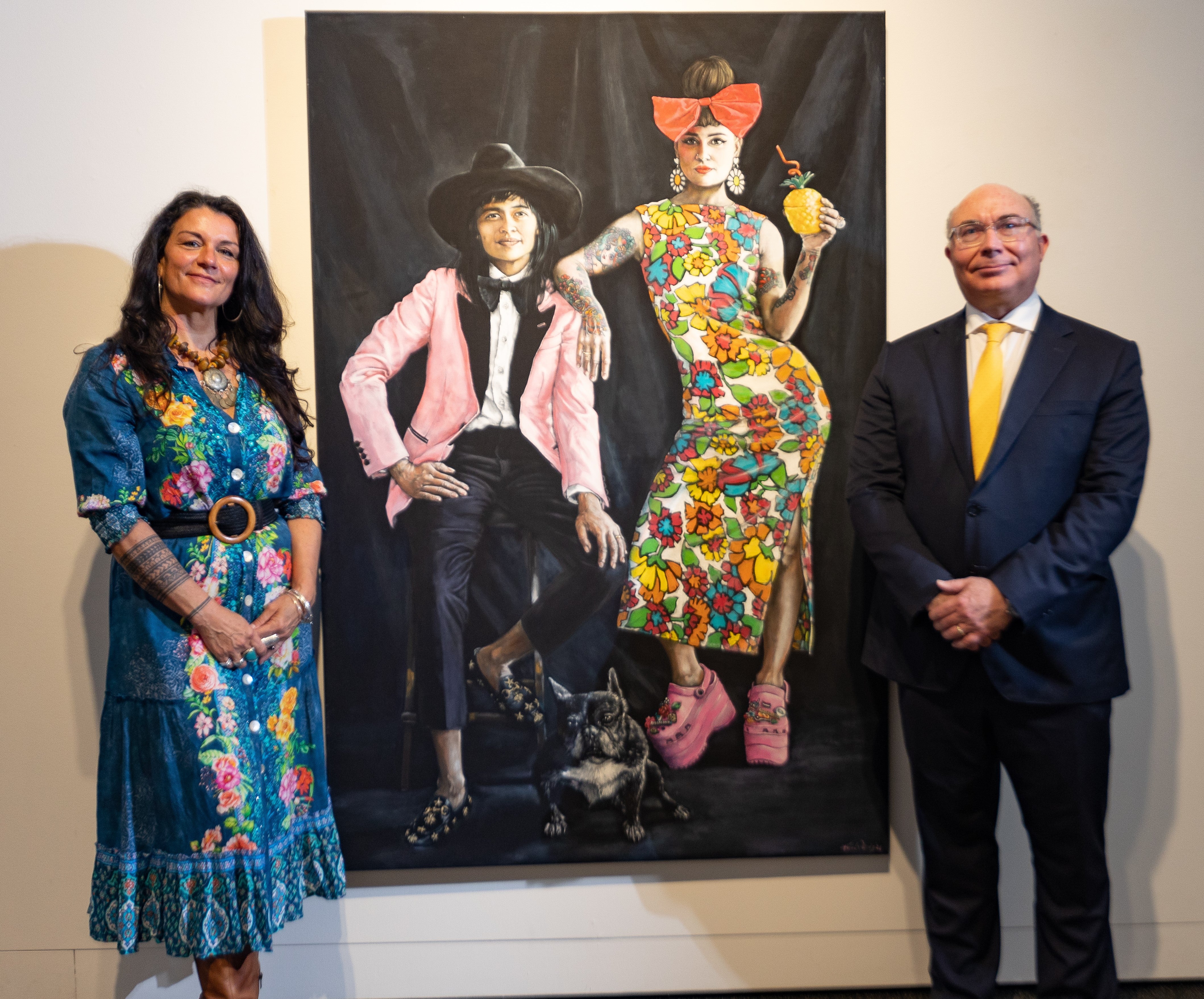 Photo: Artist Tania Wursig (left) with her winning artwork, Chakita, and Holding Redlich's Sydney Managing Partner, Stephen Trew (right).
Remarks: This media released was republished with permission from the National Trust S.H. Ervin Gallery.
Share this