At Holding Redlich, pro bono work is an integral part of our legal practice. Its purpose, to provide assistance to charities and to individuals who may not be able to access the legal system, is part of our DNA. As part of our pro bono commitment, the firm is a signatory to the National Pro Bono Target of 35 hours per lawyer per year.
In the 2020/2021 financial year the firm performed its highest ever amount of pro bono work, recording 8,863 pro bono hours at a rate of 35.38 hours per lawyer. In the midst of a global pandemic and while Australia also recovered from devastating natural disasters such as bushfires and flood events, the firm managed to increase its pro bono output by 17% over the course of the year and by 116% over the course of the past four years.
Some of our pro bono work highlights included advising and assisting 125 charities or not-for-profit organisations, working with Aboriginal and Torres Strait Islander peoples and organisations on 33 different pro bono matters, assisting 13 bushfire affected clients, and representing over 30 refugees and asylum seekers in court proceedings.
Our relationships with community legal centres and other community partners are integral in facilitating our pro bono work. We partner with these organisations to provide direct legal assistance to members of the community who need it most. In particular, we work closely with Refugee Legal, Youthlaw, Seniors Rights Service, Kingsford Legal Service, Arts Law Centre of Australia, Women's Legal Service Victoria, LawRight, and Justice Connect to facilitate access to justice for a large number of vulnerable and disadvantaged members of our society. Most recently, we expanded our longstanding relationship with Refugee Legal to provide support to its pro bono clinic, which provides legal advice and assistance to asylum seekers who fear serious harm and are seeking protection from Australia.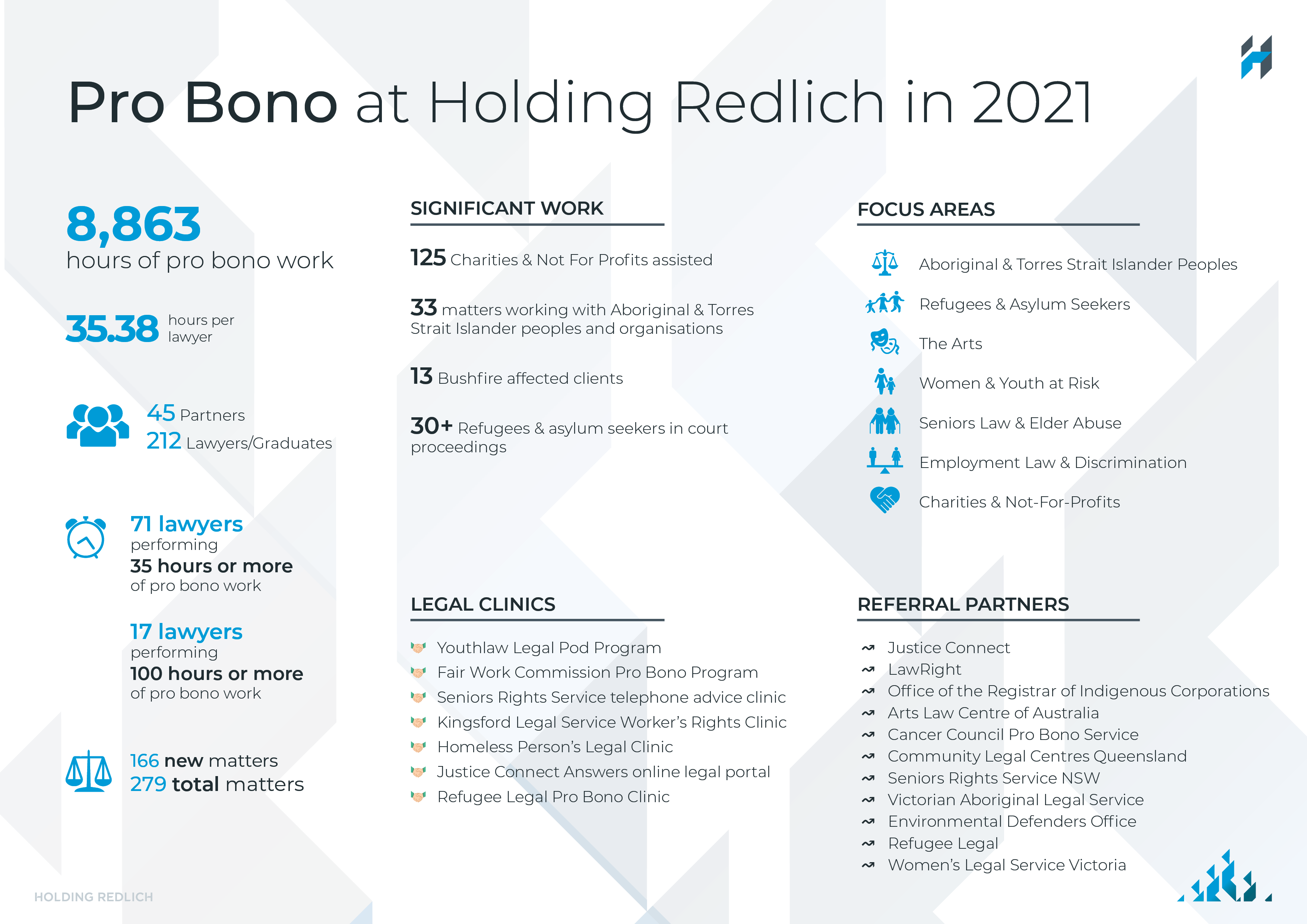 At Holding Redlich, we aspire to contribute to our society through active community involvement, and our pro bono program makes up an important part of this. We are proud to undertake pro bono work that allows us to make a positive contribution to the communities in which we live and work.
Author: Guy Donovan
Disclaimer
The information in this publication is of a general nature and is not intended to address the circumstances of any particular individual or entity. Although we endeavour to provide accurate and timely information, we do not guarantee that the information in this publication is accurate at the date it is received or that it will continue to be accurate in the future. We are not responsible for the information of any source to which a link is provided or reference is made and exclude all liability in connection with use of these sources.
Share this