Interim arrangements for granting leases and licences on community land expiring 31 June 2021
The three-year initial period under the Crown Land Management Act 2016 (NSW) (CLM Act) will expire on 31 June 2021. Accordingly, the interim arrangements relating to the grant of leases and licences over 'community land' as classified by the Local Government Act 1993 (NSW) (LG Act) will also end. This means that, as of 1 July 2021, councils can only grant leases or licences over community land in accordance with an adopted 'plan of management' (PoM) (except in limited circumstances).
The Initial Period
Under the CLM Act, councils appointed as Crown land managers are required (except in limited circumstances) to manage Crown land as if it were classified as 'community land' under the LG Act. Under the LG Act, community land must be managed in accordance with a PoM. Leases and licences can only be granted on community land where an expressed authorisation is provided in an adopted PoM (except in limited circumstances, as outlined below).
Under the CLM Act, councils were granted a three-year period from 1 July 2018 – 31 June 2021 (Initial Period) to adopt a PoM. To facilitate continued access to and use of land while the PoMs were being developed, the CLM Act provides interim arrangements for the granting of leases and licences during the Initial Period. The interim arrangements allow Crown land managers to grant certain leases and licences over community land, even though they may not ordinarily be permitted under a PoM.
Interim arrangements expiring 31 June 2021
Council Crown land managers can grant leases and licences on community land as outlined in the table below, until the earlier of:
a council's adoption of its first PoM;
the land is classified as operational with Minister's consent (note: operational land may be freely dealt with); or
31 June 2021.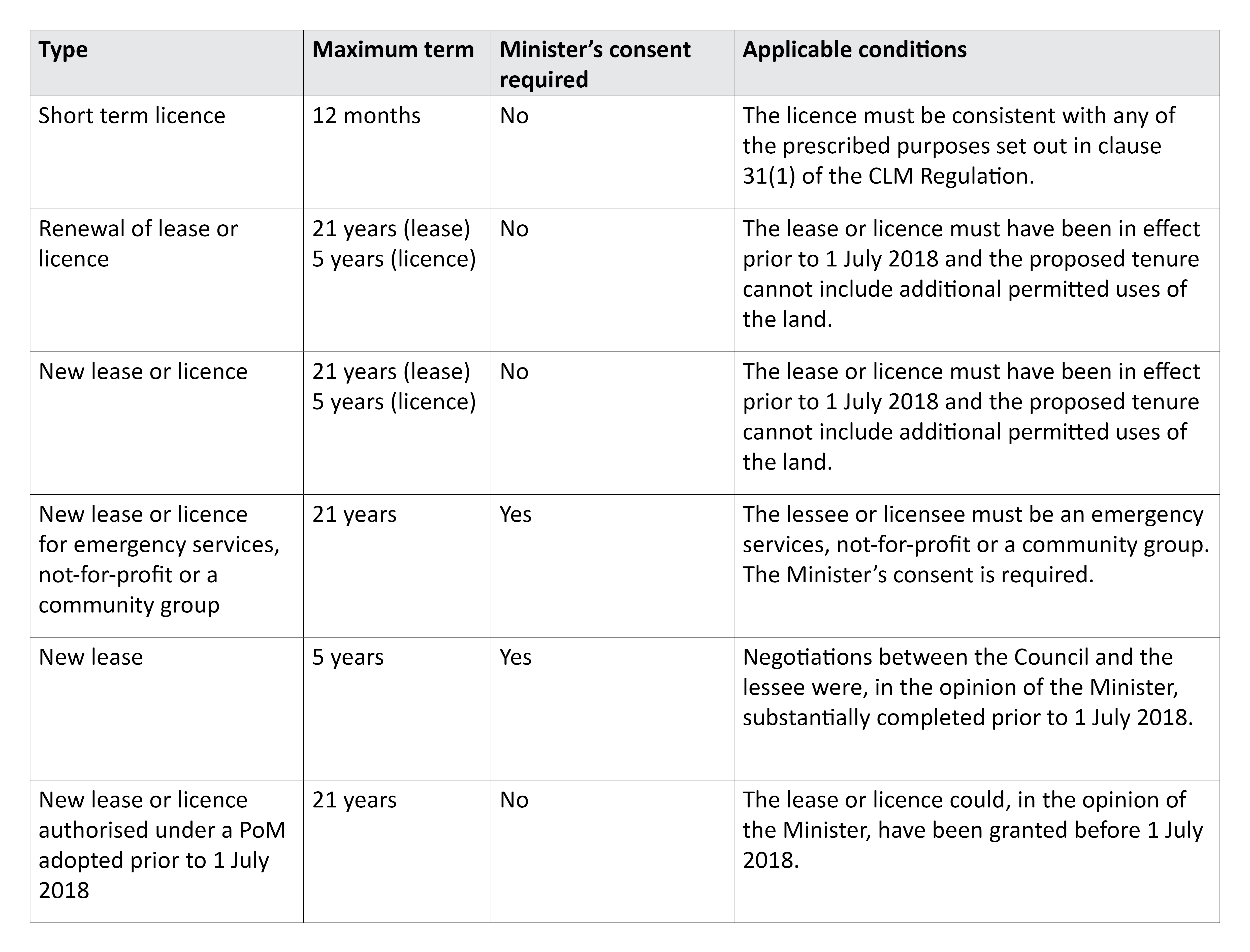 Leases and licences of community land from 1 July 2021
From 1 July 2021, Council Crown land managers can only grant leases and licences of community land:
in accordance with an express authorisation in the PoM
to allow a filming project to be carried out
for the provision of public utilities and associated works
for underground connections between community land and council or other public utility facilities.
Accordingly, councils should familiarise themselves with what leases and licences are expressly authorised in the applicable PoMs.
Councils should also ensure that all leases or licences comply with relevant legislation, Crown land management rules, policies, regulations, guidelines and fact sheets. The relevant tenure provisions under the LG Act are set out in the table below.

Authors: Cameron Sheather & Lauren Stables
In the media
Time to take stock of metropolitan governance: ALGA
Australia's cities have become like a patchwork of local communities over the past 12 months while experiencing low growth rates, making this an ideal time to review our metropolitan governance structures (26 March 2021). More...
Disaster assistance authorised for flood-affected LGAs
Local government areas affected by severe storms and flooding in Queensland and NSW are now eligible to receive federal government assistance (26 March 2021). More...
Local government risks being relegated to "line manager"
Local government has little say in agenda and goal setting around cities, but is frequently left to clean up the mess. Local government needs to reassert its role in shaping cities or risk being relegated to a "line manager" for state and federal agendas, new research suggests (25 March 2021). More...
Flood crisis highlights need for "tough conversation" about suburban spread: Littleproud
Australia must have a "tough conversation" about where people should build their homes, Emergency Management Minister David Littleproud says, and state and local governments needed to urgently devise new rules for planning and developments, based on recommendations from the bushfires royal commission (22 March 2021). More...
Reform how cities are governed to manage urgent urban challenges: Report
Local government collaboration with metropolitan governance in Australian cities must be reformed to effectively address urgent urban issues such as climate change, population and urban development growth coordination, and minimising spatial inequities and suburban sprawl, finds new AHURI research (16 March 2021). More...
Local government ready to help turn our waste crisis into a billion-dollar economic opportunity
The Australian Local Government Association (ALGA) has hailed the Federal Government's National Plastics Plan 2021 as an important milestone on the road to a more environmentally and economically sustainable future (16 March 2021). More...
Strategy would hand councils more ownership of road safety
Half of Australia's road crashes occur on local roads. A proposed ten-year National Road Safety Strategy says councils should be required to provide regular road safety reports and calls for road safety to become embedded in councils' day to day business (16 March 2021). More...
Queensland
SEQ councils to share in $100 million Community Stimulus Program
Councils across South East Queensland are sharing in $100 million for shovel-ready community infrastructure projects that could create 2,500 jobs (23 March 2021). More...
How green energy has become "the new black" in booming Queensland regions
Mayors of five Queensland regions rich in resources, agriculture and tourism have added green energy projects to the list of economic pillars that will underpin the prosperity of their communities into the future (19 March 2021). More...
In practice and courts
Local government co-ordination: metropolitan governance in twenty-first century Australia
Andrew Butt; Annette Kroen; Wendy Steele; Stefanie Dühr; AHURI: 17 March 2021.
This research examined the role of local government engagement and coordination in modern Australian metropolitan governance. It focusses on the role of local governments in cooperation with one another, the state governments, and other actors at the metropolitan scale. Read more here.
Requirements on local governments
From 10 March 2021, all local governments must notify the Minister for Foreign Affairs of a proposal to enter or negotiate a foreign arrangement. If the arrangement is entered into, the Minister must also be notified about the arrangement within 14 days. The Act requires all local governments to provide a comprehensive list of all their existing foreign arrangements (including non-binding arrangements) to the Department of Foreign Affairs and Trade (DFAT) by 10 June 2021. Registration of an arrangement is made via DFAT's online portal accessible here. You can find more information on the Scheme and the arrangements to which it applies on the DFAT website.
Queensland
Roma Street Cross River Rail Priority Development Area
Submissions are now being invited to contribute on the proposed Roma Street CRR PDA Development Scheme, Draft Development and Offset Plan. With a new underground Roma Street Cross River Rail station being constructed, the PDA will be used to guide a coordinated development of the surrounding precinct.
Cases
Queensland
Bucknell & Anor v Townsville City Council & Anor [2021] QCA 45
PROCEDURE – CIVIL PROCEEDINGS IN STATE AND TERRITORY COURTS – COSTS – GENERAL MATTERS – where the court granted the applicant leave to appeal a decision of the Planning and Environment Court, and dismissed the appeal – where the general rule is costs follow the event – whether the first respondent's costs should be limited to those it would have incurred if it had appeared at the hearing and not participated in argument – where the first respondent advanced submissions that overlapped with those of the second respondent – where the first respondent did not identify any interest in the appeal not shared by the second respondent.
Local Government Act 1936 Qld.
Hawke v Brisbane City Council [2021] QPEC 16
PLANNING AND ENVIRONMENT – APPEAL AGAINST REFUSAL OF CODE ASSESSABLE DEVELOPMENT APPLICATION – where proposed development involved demolition of a pre-1947 house – where central issue was whether the subject house contributed to the traditional building character of that part of the street within the Traditional building character overlay.
Planning Act 2016 Qld s 45, 60
Planning and Environment Court Act 2016 Qld s 43
Highgate Partners Qld Pty Ltd v Sunshine Coast Regional Council [2021] QPEC 15
PLANNING AND ENVIRONMENT – APPLICATION – where the applicant was successful in obtaining a development approval granted by order of this Court on 17 October 2008, for staged sub-division of land at Burnside – where that development approval has previously been changed by order of this Court on three occasions: on 29 April 2011, 24 June 2016 and 13 April 2017, with a result of 53 separately owned subdivided lots and a yet to be sub-divided balance lot – where the applicant now seeks that the development approval be changed to facilitate the further staged subdivision of the balance lot – where the application is considered to be for a "minor change" within the meaning of s 78A of the Planning Act 2016 – whether the applicant has satisfied all of the requirements of s 79 of the Planning Act 2016 – whether s 79(1A) of the Planning Act 2016 requires the consent of all the owners – whether the 53 previously subdivided residential lots are "excluded premises" within the meaning of s 79(1A) and Schedule 2 of the Planning Act 2016 – whether the application should be approved upon assessment pursuant to s 81 of the Planning Act 2016.
Acts Interpretation Act 1954 Qld ss 14, 14B; Building Act 1975 Qld s 65; Integrated Planning Act 1997 Qld ss 3.5.33(3), 4.1.5A; Planning Act 2016 Qld ss 31, 35, 51, 73, 78, 78A(2), 79, 81, 84, 86, 280, Schedule 2
Planning and Environment Court Act 2016 Qld s 37; Planning Bill 2015 Qld; Sustainable Planning Act 2009 Qld ss 200, 245, 263, 367, 371, 379, 383, 440, 704
Bond v Chief Executive, Department of Environment and Science [2021] QPEC 14
ENVIRONMENT AND PLANNING – COURTS AND TRIBUNALS WITH ENVIRONMENT JURISDICTION – QUEENSLAND – PLANNING AND ENVIRONMENT COURT AND ITS PREDECESSORS – PROCEDURE – where the applicant is subject to an Environmental Protection Order as a "related person" under s363AD of the Environmental Protection Act (1994) – where the order required the applicant to lodge a bank Guarantee of $5,500,000 to secure compliance and to carry out specific rehabilitation works – where the operational period of the order has expired – where the rehabilitation works required by the order have been carried out pursuant to a Direction Notice issued to the Department of Natural Resources Mines and Energy.
APPLICATION FOR STAY – where the applicant seeks a stay pursuant to s539B(2) of the Environmental Protection Act (1994) of the Environmental Protection Order to which he is subject– where the applicant submits that the stay is necessary to secure the effectiveness of an appeal to this court in relation to the making of the Environmental Protection Order – where a stay has been refused on two earlier occasions – whether "significant" new facts and circumstances have arisen which justify the further application for a stay being made – whether the interests of justice warrant a further hearing of the application – whether it is necessary on the facts to consider competing discretionary factors – whether the application amounts to an abuse of process.
Environmental Protection Act 1994 Qld ss 535, 539B, 358, 363AD, 363AG
Disclaimer
The information in this publication is of a general nature and is not intended to address the circumstances of any particular individual or entity. Although we endeavour to provide accurate and timely information, we do not guarantee that the information in this newsletter is accurate at the date it is received or that it will continue to be accurate in the future.
Share this