New arrangements for granting leases and licences on community land
The Crown Land Management Amendment (Plan of Management) Regulation 2021 (CLM Regulation) commenced on 4 June 2021. Councils appointed as Crown land managers under the Crown Land Management Act 2016 (NSW) (CLM Act) are now no longer required to adopt a plan of management (PoM) by 1 July 2021. Accordingly, what were initially interim arrangements relating to the grant of leases and licences will now continue to operate indefinitely, or at least until such time as a PoM is adopted.
Original legislation
As mentioned in our previous article dated 7 April 2021, under the CLM Act, councils were granted a three-year period from 1 July 2018 to 30 June 2021 (Initial Period) to adopt a PoM. During the Initial Period councils could grant leases and licences in accordance with the interim arrangements provided under the CLM Act (cl.70 of the CLM Regulation 2018). From 1 July 2021, councils could only grant leases or licences over community land in accordance with an adopted PoM (except in limited circumstances).
What are the changes?
The CLM Regulation which amended the Crown Land Management Regulation 2018 now exempts councils from the requirement to adopt PoMs by 1 July 2021. Council Crown land managers are now also required to seek Minister's consent before adopting any PoM and also continue to be exempt from holding public hearings in respect of proposed PoMs.
The CLM Regulation did not introduce a new due date for the adoption of PoMs, however Councils are still required to submit categorisations and draft PoMs as soon as practicable.
Council Crown land managers can now continue to grant leases and licences on community land as outlined in the table below, until the earlier of:
a council's adoption of its first PoM; or
the land is classified as operational with Minister's consent.
The effect of the changes is that not all Council managed reserves will have a PoM and that Councils will be required to prepare a PoM if they wish to enter into a lease or licence not covered by clause 70 of the Crown Land Management Regulation 2018.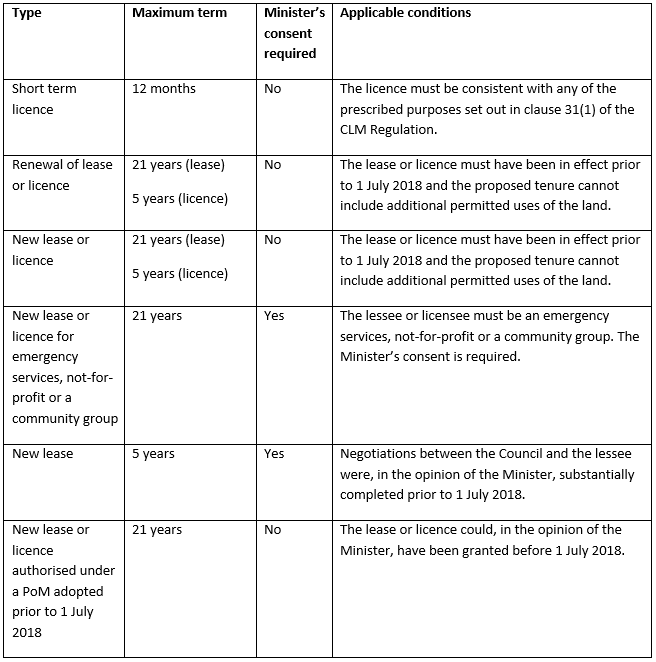 Authors: Cameron Sheather & Lauren Stables
In the media
Commonwealth
No quick fix to regional housing affordability crisis: RAI
The current accommodation shortage in many regional towns and cities will take time to reverse, the Regional Australia Institute has said. Twenty regions ranging from Port Hedland to Ballina and Townsville to Burnie have residential vacancy rates of 0.5 percent or lower (04 June 2021). More...
2021 regional telecommunications review
Luke Hartsuyker will chair an independent review into the state of telecommunications services in regional, rural and remote Australia, along with particular issues identified in the terms of reference. As part of the review, the committee will deliver a report and may make recommendations to the Australian Government (04 June 2021). More...
Paintback gets the all-clear to extend funding levy until 2031
The levy funding the paintback product stewardship scheme will continue until 18 June 2031 after a ruling last month by the national competition watchdog. Paintback Ltd contracts with state, territory, and local governments and waste service providers for the collection and safe disposal of waste A&D paint (04 June 2021). More...
Advice for councils on keeping myGovID safe and secure
The Australian Tax Office is advising local governments that myGOvid will expire on a specific device if it hasn't been used for an extended period. This is a mechanism designed to enhance online security and identity protection (01 June 2021). More...
Talks to begin on developing a regional-specific data hub
The Federal Government is calling for public input into creating a regional data hub to better inform local leaders and regional communities. The proposed hub will "improve the evidence base for regional communities, local leaders, industry and all levels of government" (28 May 2021). More...
Victoria
Fast-tracking investment to support regional recovery
New job-creating infrastructure projects are being fast-tracked across regional and rural Victoria to ensure our regions continue to thrive. The investment fast track fund will help take important projects from the ideas phase to be ready for development, with grants of up to $500,000 available to local councils, community organisations and the private sector (04 June 2021). More...
Cardinia Shire Council signs on to VECO, Australia's largest-ever emissions reduction project by local government
Council is proud to be one of forty-six Victorian councils to sign on to the Victorian Energy Collaboration, the largest ever emissions reduction project by local government in Australia (01 June 2021). More...
Doubts raised over long-term sustainability of Victorian LGs
Victorian councils may face "difficult" financial decisions in coming years if revenue growth does not resume post COVID-19. The warning is contained an essential services commission report on the impact of rate capping on local councils (28 May 2021). More...
Victorian councils form Australia's largest power purchase group
Forty-six Victorian councils have formed a renewable energy purchasing group in what's being called the largest emissions reduction project to ever undertaken by Australian local government (28 May 2021). More...
Queensland
19,000 Queenslanders fined for not voting during COVID-19 surge
Queenslanders who didn't make it to the ballot box amid a huge spike in coronavirus cases – including some who were advised by doctors to stay home – have been hit with millions of dollars in fines (04 June 2021). More...
Queensland Government swaps food waste for Lockyer Valley jobs
Household food scraps and garden waste will be turned into mulch, soil and opportunities for new jobs in a partnership between the Palaszczuk Government and Lockyer Regional Council (03 June 2021). More...
'Accountability is number one': Gold Coast Mayor joins calls for CCC chairman to stand down
Tom Tate joins a growing chorus of politicians and civic leaders calling for the head of Queensland's Crime and Corruption Commission, Alan MacSporran, to stand aside (02 June 2021). More...
Works for Queensland to deliver more jobs for Mackay region
Mackay, Isaac and Whitsunday councils are set to see $15.42 million for projects that will create 210 jobs thanks to the Palaszczuk Government's signature works for Queensland program. Mr Miles said the enormously successful program is designed to help our regional councils deliver infrastructure that will not only create jobs, but will also improve livability in towns and cities outside the south east corner (02 June 2021). More...
Beam, Neuron Mobility snap up e-mobility contracts with Brisbane City Council
Shared e-bikes will join Brisbane's shared e-scooter program in July, with Brisbane City Council announcing it has awarded three-year contracts (01 June 2021). More...
Public inquiry into Logan City corruption probe
A corruption investigation that resulted in a Queensland council before sacked before legal action was eventually dropped will be the subject of a public inquiry. The state's Parliamentary Crime and Corruption Committee, will look into the Crime and Corruption Commission inquiry that resulted in fraud charges against eight councillors and the dismissal Logan City Council in 2019 (31 May 2021). More...
Cross River Rail is not enough to ease Brisbane transport woes, says Mayor
Brisbane's Lord Mayor calls for more transport options than Cross River Rail amid record migration to city. Brisbane City Council has released new data illustrating total capital purchases and grants by region, and revealing a lower spend in Brisbane's suburbs compared to elsewhere in the state (28 May 2021). More...
Ratepayers told to 'put their money where their mouth is' with $200 fee to make a complaint against council
A regional council wants to charge residents to make complaints regarding corruption and fraud against councillors (26 May 2021). More...
Noosa group launches climate change plan fight, brings in lobbyists linked to Adani
A newly-formed action group in Noosa has enlisted a high-powered lobby group linked to coal giant Adani as it launches a fight over the council's climate change impact plan for beaches (24 May 2021). More...
In practice and courts
Commonwealth
Reminder to register sister city agreements
Councils have until 10 June to notify the Department of Foreign Affairs of non-core foreign arrangements entered into on or before 9 March. Arrangements should be notified through the foreign arrangements portal. Any local government that does not yet have access to the portal can obtain access by emailing the Department of Foreign Affairs and Trade's Foreign Arrangements Taskforce.
Requirements on local governments
From 10 March 2021, all local governments must notify the Minister for Foreign Affairs of a proposal to enter or negotiate a foreign arrangement. If the arrangement is entered into, the Minister must also be notified about the arrangement within 14 days. The Act requires all Local Governments to provide a comprehensive list of all their existing foreign arrangements (including non-binding arrangements) to DFAT by 10 June 2021. Registration of an arrangement is made via DFAT's online portal accessible here. You can find more information on the Scheme and the arrangements to which it applies on the DFAT website.
LGs eligible for environmental safe havens funding
Councils have been advised that they can apply for Commonwealth grants to build safe havens for threatened native wildlife species. Local government agencies/bodies can apply for grants ranging from $500,000 up to $1.8 million. The cut-off for grant applications is 11 January 2021, and projects eligible for grants must be completed by 31 May 2023. Click here for more information.
ALGA National State of the Assets 2021
The online NSoA data collection form for your organisation is available on the NAMS+ Platform and is ready for you to start entering your data for the NSoA report. ALGA is calling for councils to be part of the 2021 National State of the Assets (NSoA) report update.
Victoria
Local Government (Land Information) Regulations 2021
To align with the commencement of sections 121 and 122 of the Local Government Act 2020 on 1 July 2021, new regulations are in preparation on 'Land Information'. The Government will not be making substantial changes to the current prescribed requirements, however the proposed Local Government (Land Information) Regulations 2021 will replicate the current regulatory requirements for Land Information covered in the Local Government (General) Regulations 2015. Click here for more information.
Note: After review and consideration of the public comments the Regulations will be made and in force for 1 July 2021.
Investment fast track fund 2021: Second round
Part of the regional jobs and infrastructure fund, the stimulus round aims to create jobs by funding priority community projects that can be activated quickly, helping regions to recover and thrive. Applications for the second round of the regional infrastructure fund's 2020/21 program open 16 June. Information and guidelines for the regional jobs and infrastructure fund can be found here.
295-357 Wellington Parade South, Melbourne (Treasury Square)
The Government Land Planning Service, on behalf of the Minister for Planning, is now seeking views from interested parties on a combined planning permit application for a two-lot subdivision and a planning scheme amendment at 295 – 357 Wellington Parade South, Melbourne. The site is known as Treasury Square. Please visit the website for more information. Submissions closed 29 May 2020.
Gender impact assessments
It is important that councils are already thinking about and preparing to meet their obligations under The Gender Equality Act 2020 which come into effect from 31 March 2021. Other key dates in 2021 are 30 June when councils must conduct a workplace gender audit, and 31 October when councils must submit a Gender Equality Action Plan, based on the findings from their workplace gender audit. CGEPS is also planning tailored sector-based workshops to be delivered by their panel of providers and is available to answer your questions sent.
Container deposit scheme
The MAV has welcomed the release of the Victorian Government's consultation paper on the design of the container deposit scheme (CDS). Following significant advocacy from the MAV, councils, environment groups and others, the State committed to introducing a CDS by 2023 as part of its Recycling Victoria policy.
Smart Planning PPF translation update
Smart Planning continues to work with councils on their Planning Policy Framework (PPF) translations. To date, PPF translations have been gazetted for Murrindindi, French Island and Sandstone Island, Glenelg, Moonee Valley, Golden Plains, Southern Grampians and Colac-Otway. The PPF translation project is time bound and all planning schemes must be translated by 30 June 2021. Information on preparing for your PPF translation is available on the Smart Planning website.
Queensland
Works for Queensland projects across the region
The Works for Queensland program supports regional councils to undertake job-creating maintenance and minor infrastructure projects such as parks and playgrounds, community and sports facilities, swimming pools and water play areas, renewable energy initiatives, footpaths, roads and water infrastructure. A further $200 million committed for 2024–27. For more information visit Works for Queensland website.
Cases
Commonwealth
Australian Conservation Foundation Incorporated v Minister for the Environment [2021] FCA 550
ADMINISTRATIVE LAW – statutory construction – application for judicial review – where proposed action for construction of and operation of infrastructure to harvest and supply water to a coal mine by a different but related company – where proposed action intended to provide an alternative source of water from that approved in the initial proposal for the construction and operation of the coal mine – where the delegate of the Minister for the Environment decided under section 75(1) of the Environment Protection and Biodiversity Conservation Act 1999 (Cth) (EPBC Act) that sections 24D and 24E (the water trigger controlling provisions) were not controlling provisions for the proposed action (the controlled action decision) – whether the delegate erred in construing the phrase involves large coal mining development in sections 24D and 24E and definition of "large coal mining development" in section 528 as encompassing only an activity which forms part of the process of extracting coal from a mine – where so-called definition enacts substantive criteria – whether delegate's construction supported by the penal nature of the controlling provisions – where contrary to the delegate's construction an action will involve a large coal mining development if the action is so closely associated with the mining of coal as to be integral to it – application for judicial review granted – controlled action decision to be remitted to the Minister for determination according to la.
The Action was to construct and operate the NGWS Project. Adani Infrastructure explained in its referral that the project: Separate applications for state and local government approvals.
Victoria
Strathallan Golf Club Inc v Darebin CC [2021] VCAT 551
Power of the Tribunal to reinstate a proceeding – whether orders should be re-opened where made by consent – whether a 'hearing' has occurred where orders were made on the papers – proceeding not reinstated – Victorian Civil and Administrative Tribunal Act 1998 (Vic) section 120 – orders made pursuant to section 93 – whether section 120A is more apt – Lillas & Loel Lawyers Pty Ltd v Celona & Ors [2014] VSCA 19 applied – Bradd v State Revenue Office [2006] VCAT 867 considered – Waddingham v Australian Securities Ltd [2010] VCAT 1311 considered – BCSP 5622 v Whitehorse City Council [2009] VCAT 1134 considered.
The second proceeding also seeks review of the other golf club land for the purposes of local government rating assessment. The directions hearing listed in this second matter was adjourned pending the outcome of the reinstatement application.
Legislation
Commonwealth
Bills
Northern Australia Infrastructure Facility Amendment (Extension and Other Measures) Bill 2021
Assent Act no: 41 Year: 2021 27 May 2021 – amends the Northern Australia Infrastructure Facility Act 2016 to: Extend the investment time period of the Northern Australia Infrastructure Facility (NAIF) by five years to 30 June 2026; expand the functions of the NAIF to include the provision of financial assistance to projects that contribute to Northern Australia's economic and population growth; and amend certain governance and administrative processes of the NAIF.
Water Legislation Amendment (Inspector-General of Water Compliance and Other Measures) Bill 2021
HR – 03 June 2021 – to amend the Water Act 2007 (the Act) to establish the role of an independent Inspector-General of Water Compliance (Inspector-General) to monitor, and provide independent oversight of, water compliance. The Act provides the legislative and regulatory framework for the management of the Murray-Darling Basin, Australia's largest water resource. The Act enables the Commonwealth to manage, in conjunction with the Basin States, the Murray-Darling Basin resources in the national interest.
Victoria
Date of commencement: 1 June 2021.
Consumer and Other Acts Miscellaneous Amendments Act 2021 (Vic)
Section 1(e)(iii) and section 86 of this Act came in by forced commencement on 1 June 2021 (SG110 10.03.2021).
Act Number: 1/2021.
Statutory Rules
No 44 Forests (Recreation) (Temporary) Regulations 2021
18 May 2021 – these regulations came into operation on 24 May 2021.
Disclaimer
The information in this publication is of a general nature and is not intended to address the circumstances of any particular individual or entity. Although we endeavour to provide accurate and timely information, we do not guarantee that the information in this newsletter is accurate at the date it is received or that it will continue to be accurate in the future.
Share this