It is easy to get lost navigating the long and numerous provisions of the Heavy Vehicle National Law (HVNL) and its regulations. As is it equally as difficult to settle on a landing place for the measures you need to implement in your business to achieve safety compliance. To help you grapple with this issue, the industry turns to Safety Management Systems (SMSs)
Definition: Safety Management System
An SMS is a practical framework to give businesses the chance to step back, assess their HVNL obligations and implement systems to manage the safety of their transport activities.
How does an SMS work?
An SMS seeks to provide an integrated approach to safety management across a business's transport activities involving heavy vehicles and across its organisational levels (from operational staff, to management to executive officers). As opposed to a policy document, SMSs are a broader business framework, a 'live' tool for business's to strive for HVNL compliance, working best when they are in play, allowing all levels of the business to give feedback on what works and does not work to ensure the safety of its particular transport activities.
What are the key components of an SMS?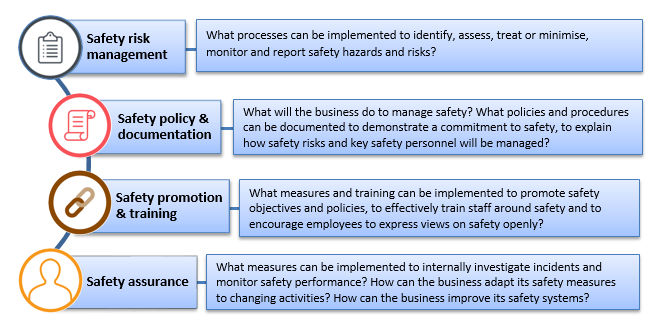 Why go with an SMS?
An SMS can help you:
manage HVNL obligations – the key components of an SMS listed above walk you through considerations your business should take account of to achieve HVNL compliance
demonstrate compliance with HVNL obligations and safety assurances – an effective SMS will provide systems for you to document compliance with obligations. You can use this to monitor the efficacy of your safety systems and to demonstrate compliance with HVNL obligations in the event of HVNL charges
demonstrate compliance with your executive duty – executives are accountable for their business's safety practices. Executives can turn to their SMS as a way to achieve compliance with their due diligence obligations and to document compliance with this obligation
promote your business – you can use your SMS, in particular policies, procedures and your compliance history as a tool when bidding for business. We see that more frequently contracts include warranties around compliance with HVNL obligations and that KPIs include HVNL compliance criteria. An SMS can give you, your customers and your business partners more confidence that you will be able to deliver on your obligations, which also work to reduce their risk profile
minimise risk exposure – an effective SMS should stave off risks of safety incidents and potential prosecution. As a result you endeavour to keep the costs of compensation, damages and legal costs off your books in the long term
harmonise business procedures – an effective SMS covers front end and back end business compliance but it doesn't seek to duplicate the same tasks. By tackling compliance holistically you may be able to reallocate resources better in your business to achieve better compliance outcomes for overall less costs
provide comfort to employees and prospective employees – having an effective safety system makes you a more desirable employer.
What about small businesses with limited resources?
Establishing a full-blown SMS for your business can seem like a costly undertaking. Here are some tips on how to develop an SMS or alternative safety compliance with limited resources while balancing pressures of growth in your business:
sharing resources and/or joining an industry network to give you compliance resources and templates that you can adapt to your business operations
developing a handbook for drivers and suppliers with your expectations for safety and compliance
training drivers, employers and subcontractors in compliance or operations handbook and doing a yearly refresher
thinking about investing, where you can, in technology that can help you with compliance – e.g. GPS to monitor driver behaviour.
Quick-fire questions
1. Are SMSs mandatory?
No, they are not. But they can help you meet your obligations under the HNVL.
2. Is the National Heavy Vehicle Accreditation Scheme (NHVAS) the same as an SMS?
No, it is not the same thing. The NHVAS is directed primarily at mass, maintenance and fatigue management. SMSs are broader to include safety compliance and management across the business.
3. Are there third parties that can help me with implementing an SMS?
Different third parties can address different aspects of an effective SMS.
Lawyers can help develop safety compliance policy documents and compliance monitoring arrangements for your SMS.
Businesses such as TruckSafe can also provide a set of standards that work as a framework for risk management and safe work practices that a trucking business should implement to operate safety, responsibly and lawfully. Demonstrating compliance with these TruckSafe standards in turn, provides a strong defence with respect to CoR (within the Heavy Vehicle National Law) and the industry Master Code.
Author: Rebecca Niumeitolu
* A version of this article was originally published in CoR Adviser. This article is © 2019 Portner Press Pty Ltd and has been reproduced with permission of Portner Press.
Disclaimer
The information in this publication is of a general nature and is not intended to address the circumstances of any particular individual or entity. Although we endeavour to provide accurate and timely information, we do not guarantee that the information in this newsletter is accurate at the date it is received or that it will continue to be accurate in the future.
Published by Rebecca Niumeitolu
Share this